HMHS Britannic
(His Majesty's Hospital Ship) was a hospital ship designed for World War I, with white paint and large red crosses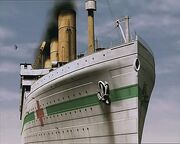 She was a sister of the
RMS Titanic
, also known as an Olympic Class Ship.
She was meant to be called the "Gigantic" but renamed as "Britannic" after the Titanic disaster in April 1912.
She was only in service for 11 months until she sank after she hit a mine in the Kea Channel in Greece, some survivors still believe a German U-Boat torpedo her.
During her construction, she was RMS Britannic, but have to be changed to a hospital ship due to World War 1.
She had safety equipments after the titanic disaster, rearranged bulkheads, double hull, more lifeboats. this was added to the RMS Olympic (or HMT Olympic) too.
She was laucnhed in 26 February 1914, started her service in 23 December 1915, and sank (or out of service) in 21 November 1916, even after her safety equipments, she sank faster than the RMS Titanic, she sank less than 1 hour.
Community content is available under
CC-BY-SA
unless otherwise noted.