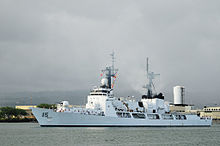 The BRP Gregorio Del Pilar (PF-15) or Goyo/Goryo, is a Frigate of the Philippine Navy. The Ship was originally built as the United States Coast Guard USCGC Hamilton, lead ship of the Hamilton-Class High-Endurance-Cutters. The USCG Decommissioned the Hamilton in March 2011 and was acquired by the PN in May of that year. After Acquisition, PN Personel left for the USA to train on the still commissioned USCGC Boutwell, while the USCG striped the Hamilton (now renamed the Gregorio Del Pilar) of it's PHALANX Close-In-Weapon-System, 2 25mm Bushmaster Cannons and the AN/SPS-40 Air/Surface Search Radar and in return the US placed many new hardware such as Long-Term navigation equipment into the Goyo. The Goryo arrived in the PH in August 2011 and was officially commissioned into the PN on December 14, 2011 at Pier 13 Manila South Harbour.
Community content is available under
CC-BY-SA
unless otherwise noted.